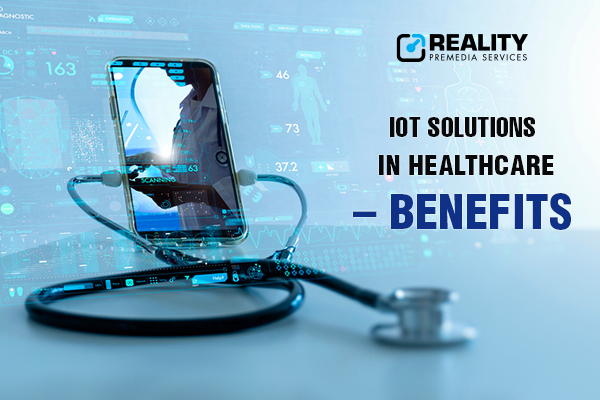 The IoT is set to transform the healthcare industry within the next decades, as it has great potential and multiple benefits.
The market of IoT in healthcare is predicted to exceed $10 billion by 2024, according to Brandessence market research. IoT is slowly getting traction and evolving alongside the 5G mobile wireless, AI, and Big Data. Combing these powerful technologies with the IoT will likely revolutionize the healthcare industry.
Benefits of IoT solutions in healthcare
1. Brings Continuous Health Monitoring
These days, fitness bands, heart rate monitoring cuffs, blood pressure measuring bands, glucometer, and more advanced smart healthcare devices provide patients with real-time personalized health status. They remind the patient to keep a check on their regular calorie consumption, improve exercise routine, identifies changing blood pressure trend, and more.
For elderly patients, it gets crucial to track their health conditions daily, and smart healthcare devices make their lifestyle easier by letting them know about any possible danger beforehand! It alerts the patient as well as to the patient's family members to warn them about the unexpected fluctuations in the patient's health conditions.
2. End-to-end connectivity and affordability
IoT in healthcare enables interoperability, AI machine-to-machine communication, information exchange, and data movement that makes healthcare service delivery effective. Connectivity protocols: Bluetooth LE, Wi-Fi, Z-wave, ZigBee, and other modern protocols, healthcare personnel can change the way they spot illness and ailments in patients and can also innovate revolutionary ways of treating across different healthcare fields.

Consequently, technology-driven setup brings down the healthcare cost, by cutting down unnecessary visits, utilizing better quality resources, and improving the allocation and planning.
3. Makes Insurance Claims Transparent
The ever-growing healthcare policies, along with IoT connectivity, are probably one of the next big things. Why? Well, this is because there are several people who claim to have health issues to redeem the insured money with maximum benefits. It calls for a loss for the insurance company. So, through the evident authenticity of the IoT-driven data, the insurance companies can leverage the captured data through superior health monitoring devices for underwriting and claim operations. Fraud claims could easily be detected through such solutions. Once this is done, the insurer can spot the unworthy prospects for underwriting. Several times it happens that genuine health insurance policy buyers suffer due to the bluff that other people had played on the insurance policyholders.
4. Lower costs
Using IoT solutions and connected medical devices allows healthcare providers to monitor patients in real-time. This means fewer unnecessary visits to the doctor, and fewer hospital stays and readmissions thanks to efficient data collection and management.
5. Reduced errors and waste
Using IoT for data collection and workflow automation is an excellent way to cut down on waste (such as unnecessary tests and expensive imaging), reduce system costs, and minimize errors (especially the ones related to the human factor).
6. Research
IoT healthcare applications can also be used for research purposes. It's because IoT enables us to collect a huge amount of data about the patient's illness which would have taken many years if we collected it manually.
The data thus collected can be used for the statistical studies that would support the medical research.

Our experience
The future of IoT in healthcare is promising in view of recent events. The unfolding crisis in the industry caused by the pandemic once again proved the importance of implementing technologies like IoT, big data and AI to enhance efficiency and improve safety in healthcare. Implementing IoT solutions right now is no longer about staying ahead of the competition, it's about making sure we can handle the crisis.
We at Reality Premedia Services help companies leverage IoT in healthcare industry and develop software to understand data, bring devices online and control smart systems. We are one of the best IoT application development company's & our team develops software for healthcare professionals, hospitals, foundations, and pharma companies.